From a book, "Progressive Men of Montana," beginning on page 1600.
(eBook available as FREE download)

John C. Woods is one of the venerable and honored residents of Lewis and Clarke County, where he has resided for nearly a score of years, devoting his attention to farming and stock growing, but having retired from the more active pursuits of life, he has given the managements of his ranch properties to his sons, capable young business men.

Mr. Woods was born in Howard Co., Missouri on September 4, 1818, the son of Adam C. and Elizabeth Woods, natives of Kentucky. The father went to Missouri in 1816, and being favorably impressed, took up his permanent abode there two years later and engaged in farming and stock raising, continuing therein until the time of his death, which occurred on August 7, 1849. In politics he was an old time Whig, fraternally was a master-mason, and in religion both he and his wife were members of the Christian church, living useful and exemplary lives, in harmony with the faith which they professed. The death of our subjects mother occurred May 26, 1856.

John C. Woods grew up under the invigorating life of the farm and his schooling was such as was afforded in the very primitive institution of learning of the period. He attended the schools during the winter months, while in the summer his time was demanded in the work of the farm.

At the age of twenty years he assumed charge of the homestead farm, his father being in impaired health and in the meanwhile he purchased 160 acres, devoting his attention to the operation of the same until 1852, when he disposed of the property and purchased 320 acres, paying therefore $4800. He successfully engaged in farming and stock growing until 1865, when he rented the place on shares and went into the mercantile business in which his success was only nominal. He disposed of this in 1869, resumed farming and continued to be identified with that industry in Missouri until 1883, and then came to Montana.

He rented a ranch of 160 acres, located eight miles north of the village of Augusta, Lewis and Clarke county, which has since been his home and field of industry. Securing good crops the first two seasons, he met with poor returns the third owing to the drought of that year, In 1884 he took up claims in the same locality and has since added to the area of his estate until he now has 800 acres of which 200 are available for cultivation. He raised good crops for six years, when the scarcity of water rendered it inexpedient to continue the raising of grain and the ranch has since been given over to the growing of cattle, the average maintained being about 200 head while excellent crops of hay have been secured each year.

In politics Mr. Wood gives allegiance to the Democratic party; fraternally he is a Royal Arch Mason. All of his sons support the Democratic party.

On February 23, 1848 Mr. Woods was married to Miss Anna E. Haston, who was born in Missouri, the daughter of Jesse Haston, who emigrated from Kentucky to Missouri in early years, where he was engaged in farming until the outbreak of the Civil war period, in which he met his death in the spring of 1864, by a bullet fired by a member of the Federal state militia while Mr. Haston was returning from a visit to the Union headquarters. Of this union one child was born, Anna E. Mrs. Woods died on December 15, 1849...

and on January 23, 1851 Mr. Woods consummated a second marriage, being then united to Miss Emilie J. Dicken, who was born in Missouri, the daughter of Richard and Jane Dicken, natives of Kentucky, whence they moved to Missouri in 1825, her father there engaging in agricultural pursuits until his death which occurred there in 1869. His widow survived him until 1879. She was a zealous member of the Christian church to which Mr. and Mrs. Woods also belong.

Of the six children of our subject and his estimable wife five are living, the one deceased being Jennie, who became the wife of R. H. Wellman and whose death occurred February 18, 1900. The other children are Arthur, Lizzie, Emma, John C. Jr. and William P. Woods. Mr. Woods has one of the finest ranches in this section of Montana and here he and his faithful wife are passing the twilight of life surrounded by all the comforts afforded by the results of industrious and useful lives.

From a book, "Progressive Men of Montana," beginning on page 1600. See Woods family page.
---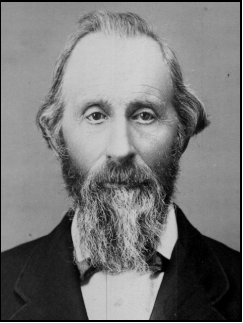 John Creighler Woods

Born: September 4, 1818 in Glasgow of Howard County, Missouri
Died: October 13, 1902 in Augusta of Lewis & Clark County, Montana
Married: first on February 23, 1848 to Ann Eliza Hasten (born December 15, 1829 and died December 15, 1949)

Child by Ann Eliza Haston: Ann Eliza Woods born 26 October 1849 in Glasgow, Missouri, died 8 January 1855.