---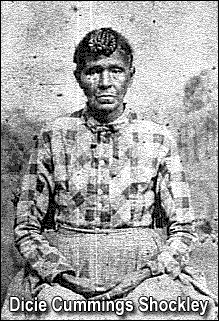 Transcription of a letter written by William E. Shockley
"Facts From Grandmother Dicie"
What I know and was told to me by Grandmother Dicie. From my youth up, I was about 5 years old when she began to teach me this; that our

Grandfather Essix was a Chactau

Indian

. She never told me anything about his father nor his mother, nor where he was raised. Vanburen County, Tennessee was where they lived and raised their family. They had four boys and four girls. Their names, the boys:

Mattison

,

Issac

, John, and Marion. The girls were; Vira, Randy, Linda and Martha.
Grand Dad Essix had 3 brothers and 3 sisters; General, Clobe and Jim were the boys; Eva, Liddie and Mannervie wer the girls. Eva was Pete Cummings' wife - that was Jim, Peter, Clobe and Gabe's mother. Also, Liddie Shockley's, Ben Shockley's wife.
Two of his sisters lived near Chattanooga. Manervie married Jack Simpson. Liddie married Jack Green. Grand Dad Essix and Grandmother Dicie lived in what was called the Cummings Cave in Vanburen County. When their youngest child was 12 years old, they separated and he left that part of the country. He was gone for years. Our brother Grant was a baby, and when he came back to that part of the country, Grant was grown. He had been living in Missouri, Jefferson City, and Sadalya, Missouri.
When he came back, they had a Family Reunion for him, and they counted all the people that was related to him and it was 200 and more. Sister Mattie was our mother's baby. Ava (Ova) Bell was Aunt Lindy's baby. Flossie was Idella's baby, Vercie Henderson was Lee and Lind Henderson's baby. Aunt Linda got angry at him because he noticed Idella's baby too much, because it was White. That was Flossie, my children's mother. That was the first time I ever saw him. They had a shooting match out in the back lot at our house. He was dark but he had real straight hair. I do not remember his age then. He was active and straight like all Indians.
He loved a horse, a dog and gun and he kept that as long as he lived. After the Family Reunion, I never heard of him for some time. He went back to Missouri. I do not know how long he stayed, but the next time I knew of him, he was living in South Pittsburg, Tennessee, and that was where he lived the remainder of his life. He farmed and made a crop every year. He had 14 acres of land on the Tennessee River. He planted corn on it every year. the last year that he planted it was 13 years, he had planted corn on the same plot of ground. The year he got sick, he had planted his crop and worked it over one time, and he did not feel like working his crop, so Aunt Linda and Martha went to South Pittsburgh and brought him over to Aunt Martha Sims in June. I don't remember the year - he stayed there until he died, that was in September. He was 94 years of age. He was 94 and Grandmother was 96 years old when she died.
Grandmother told me about Grand Dad Essix and her oldest son by her first husband, Uncle Neal - they broke up a KKK gang that was in the country then. There was something the KKK was after them about. They would hide in the woods and when they would come riding by, they would shoot into the gang and kill tow or three at a time, until they went to an old empty house out in a field to stay there at night. The KKK found out where they were staying. They would not bother them in the day time. This old house had a cellar under the floor and a door in the floor that you raise up to go in the cellar. Right in front of the door as you come in, they raised that door, they had one of those old cradle blades, those things they cut wheat with, then they wrapped something around the blade where it would not cut their hands. They had one each. When the KKK came there, Grand Dad stood on one side of the door and Uncle Neal on the other and as they came in, they chopped them and let them fall in the cellar. She said they like to have filled that cellar full before the others knew what was happening, and broke up the KKK gang in that part of the country.
I met two (2) other people in my traveling around that was his sons. I met one in Camp Meade, Maryland. He said that Grand Dad Essix was his father. When I met him, he said heard the name William Shockley every time they call the roll, but he could not see who it was; so, he got another soldier to help him watch for that name. When he saw who it was, he kept his eye on me, he said. He asked me if I knew Essix Shockley. I told him I knew two (2); a young man and an elderly man. He said, "the elderly one," I said, did he have a scar on his face, the right side? He said, "yes, you do know him." I said, that is my Grand Father. He said, "That is my Father." I asked him where do you live? "He said, South Pittsburg, Tennessee." I said, that's where my Grand Father lives. He said, "well, that's my father.
Then, once I was in the train station in Chattanooga, I met another Shockley, his name was Walter Fred Shockley. He lived, I think, it was New Jersey. He tole me he was Ha half brother to Mat Shockley. I told him I was his son. The scar Grand Dad had on his face was caused by a fight. This fight was a fight Grand Mother said he got into at a corn shucking, as they called it, then. Everyone in the neighborhood would come and help shuck corn and have a big dinner. The woman that cook the dinner had Grand Dad to stay at the house and help them around the kitchen. After they all got through eating, the women ate last and Grand Dad ate with them. Bill Roberts came in the Dining Room, saw Grand Dad eating with the White man, he pulled a knife, grabbed Grand Dad and cut him down across the face. That's what caused the scar across his face. Grand Dad caught him some how and cut this man until they got out in the yard. Out of the house, they fought one another until they both gave out and they just lay there on the ground and thump chips of wood at each other. All this, our Grand Mother tole me, and I have not forgotten it yet.
I went to South Pittsburg in 1947 or 1949, and a lot of people that knew Grand Dad when the news got out that one of Essix Shockley's grand sons was there, and it was a sight to see the number of people come looking for me.
Neither of our Grand Parents was Slaver Grand Mother's Father owned Slaver. She was raised in his home as his daughter, that was what she was. She was a Haston. Haston, her Grand Father came from Scottland and her father was named Issac Haston, they called him "Big Issac Haston." He was a brother to Isom Haston's Grand Father. There was Ison, Van and Bill Haston, they were all brothers. Ison Haston lived across the field from us. His children were Art, Isa, Della, Ira, Bettie and Ray. They taught their children that we were kin to them. They never denied being related to Uncle Matt as they call him.
Marie, all this is what was told to me and I remembered it. I hope you can get something out of this - now, what I have told you is true, don't let no one try to change any of this.
William E. Shockley
Download the original letter in a pdf file.
---