INTRODUCTION TO ARTHUR WEIR CROUCH
November 17, 1898 - April 15, 1991
AUTHOR OF "THE CANEY FORK of the CUMBERLAND"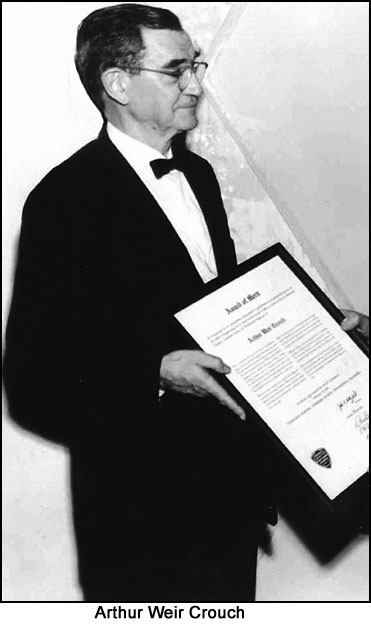 This an introduction to the work of a wonderful man, who spent his life doing his job and helping people. The work that follows starts back in 1923 when he first came to Tennessee. He had just graduated from Cornell University and taken a position as Civil Engineer with the Tennessee Electric Power Co. His job was to survey the high water mark of the Caney Fork River, Rocky River and Collins River for the Rock Island Dam or the back water for the Dam.

While doing this he met many interesting people and was told stories that if he had not written them down would now be lost forever. It is hard to imagine a New Yorker, in this part of the country, being so readily accepted.

Arthur Crouch met Dru Ella Stubblefield while working at Rock Island and they married and had three children. They lived in McMinnville until TEC was sold to TVA and the family moved to Chattanooga. There he was an Administrative Officer in the Power Dept of TVA, one responsibility being the design and control of plant protection during World War II. He was Secretary To the Power Board at the time he accepted a position as Planing Engineer and Secretary in 1943 with the Nashville Electric System. He organized a personnel department and established pay plans, etc. He began studies and plans for what became the first Service Center in the United States in which all operations, stores, shops, and offices were quartered in one location serving a $100 million business for the Nashville Electric System. He was elected Assistant Secretary of the Electric Power Board in 1946 and gave up Personnel work in 1951 except for supervising employee pension and benefit plans.

Arthur was a Life Member of the American Society of Civil Engineers, (President in 1946 Nashville Section Zone 2 District 6) the Tennessee and National Society of Professional Engineers (President 1958 Nashville Section Tennessee Society of Professional Engineers). Arthur and Harry Dixon Claybrook wrote and edited "Our Ancestors were Engineers: that covers 200 years of engineering in Middle Tennessee. Arthur was a long time member of Christ Episcopal Church and treasurer for 27 ˝ years. He was interested in family and Tennessee history and wrote a number of articles on birth and growth of utilities in Tennessee.

However, it seems that his first love was family genealogy and history of Warren County. Books for which he furnished information, co-authored or authored include:
McMinnville at a Milestone
The Caney Fork of the Cumberland
Our Ancestors were Engineers
Blue Springs Baptist Church (from the minutes)
General Rodgers
Family genealogy of the Crouch-Hannington and related families
Family genealogy of the Stubblefield's and related families
He was good to share his information at the following locations:
Magness Library-McMinnville, Tennessee
Chattanooga Public Library-Chattanooga, Tennessee
Tennessee State Archives-Nashville, Tennessee
I, Edward W. Crouch, have given permission to Wayne Haston to put this on his web site. For those that take advantage of this web site please let us know if it has been of some value to you.