Haston Cemetery - Howard County, MO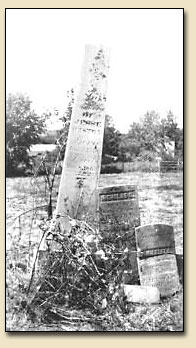 Tall tombstone is Jesse's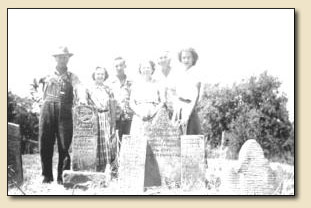 Left to right: Roy Haston, Lois Buffon Pendleton, Carl Haston, Flora Haston Buffon, Minnie Haston, & Louise Haston (Rice). August 1952
(Roy & Minnie were parents of Louise & Carl)
The following tombstone inscriptions were copied in August, 1952 by Louise Haston (Rice).
These were the only graves for which stones could be found at that time.

In Memory of Jesse Haston
Born January 2, 1796
Died November 8, 1864
Blessed are the Dead that Die in the Lord.
In Memory of Elizabeth Haston
Consort of J. Haston
Born 1800
Died on 2 Jan 1847
Aged 46 yr. and 2 days
Nicholas G. Haston
Son of Jesse and Elizabeth Haston
Died Sept 1, 1857
Aged 30 yr. 1 mo. and 4 days
Kate Haston
Dau. of Jesse and Ann J. Haston
Born June 19, 1857
Died Oct 27 1875
Wesley
Son of J. and SM Haston
Born June 19, 1857
Died Oct 27 1875
In Memory of Ann Eliza
Consort of John O Woods
Dau. of J. Haston
Born Dec. 15 1829
Richard O.
Son of J.A. & M.O. Haston
Born Aug 1, 1848
Died March 21, 1850
1 yr. 7 mo. 21 days
Amy
Daughter of I.B. & S.E. Haston
Died Apr 3, 1873
Aged 1 yr. 23 days
Location of the Jesse Haston Home Place and Cemetery
Hwy 5 and 240 Glasgow, MO 65254
Locate "Hwy 5 and 240 Glasgow, MO 65254" in Google Maps to Zoom In or Out
January 5, 2009
Wayne,
I sent you a Google map that shows 301 N Blevins Dr. Salisbury, Mo. to hwy 240 E. Glasgow, Mo.

At Glasgow the map shows taking the old road but you need to take the new 240 E. out of Glasgow. On the map where it says Glasgow, just south and east of the w in Glasgow the new road turns north, the Haston farm is just south of that bend in the road, it is owned by the Barringhaus family and some of them live just on the north side of the highway.

There is a drive that leads to where the house was, there are still barns and buildings and machinery there and the cemetery is just east of where the house was, there are weeds in it in the middle of a field.

The bridge across the Missouri river at Glasgow is out - it is being rebuilt but will be out for another year. There is a ferry there and is in operation daylight hours if the river is not frozen or flooding. It cost $8.00 to cross on it.