Lancaster County, Pennsylvania
In 1727, the Pennsylvania Provincial Council passed a law requiring all "foreign" immigrants (those of non-British origin) to swear an oath of allegiance to the Crown. And to enforce that act, ship captains carrying European immigrants into Philadelphia were required to submit lists of all of the passengers on their ships. This applied particularly to Germans who immigrated into the Province and, later, the State of Pennsylvania between the years 1727 and 1775. Apparently Henrich Hiestand arrived in America prior to September 18, 1727--the date of the first passenger list submitted in response to that law. His name does not appear on any of the known ship lists on record.
No doubt, Henrich entered America through the port of Philadelphia. If he was like so many other poor immigrants from Germany, he faced one of two common scenarios:
He established contact with a friend or family member who had already settled in Pennsylvania. Or...

He found himself alone in a foreign city with a major language barrier, with no friends and probably little money, having to fend for himself.
Where and how long he lived prior to settling in Lancaster County is unknown to us. But his April 1, 1728 naturalization, which occurred at Conestoga (then in Chester County, now Lancaster County), seems to indicate he moved into what is now Lancaster County fairly soon after his arrival in Pennsylvania.
Jacob and Johannes Hiestand arrived in Philadelphia on board the Friendship on October 16, 1727. Out of the 52 passengers on the October 16, 1727 Friendship list, seven had died en route and ten were "sick" when the ship arrived in Philadelphia. According to avid Hiestand researcher W.H.H. Turner (in a June 13, 1904 letter to a Mrs. Patterson of Griswold, Iowa), Johannes and Jacob were brothers "who came in 1727 from Palatinate Germany to Hempfield Township and settled where the towns of Landisville and Salunga are." ("Johannes settled in Manor Township which is below Hempfield.")
The names of "Jacob hiestandt" and "hannes hiestandt" (hannes = Johannes or John) also appear on the 1728 naturalization list. And, just about five years after the 1728 naturalization, these two men locatee very near Henrich Heestant in Lancaster County, PA. There is no known documentation to prove the relationship between Henrich and the other two Hiestand men, but it's highly likely that they were either brothers or very close cousins. Many American families have a tradition of three early immigrant brothers coming to America. Perhaps Henrich, Jacob, and Johannes were "our" three early immigrant brothers-to-America.
Caspar Wistar began attempting to retrieve money that Heinrich Hiestand had borrowed from him about the time (1733) that Heinrich Hiestand would have been purchasing 226 acres in Hempfield Township of western Lancaster County.
---
Lancaster County Land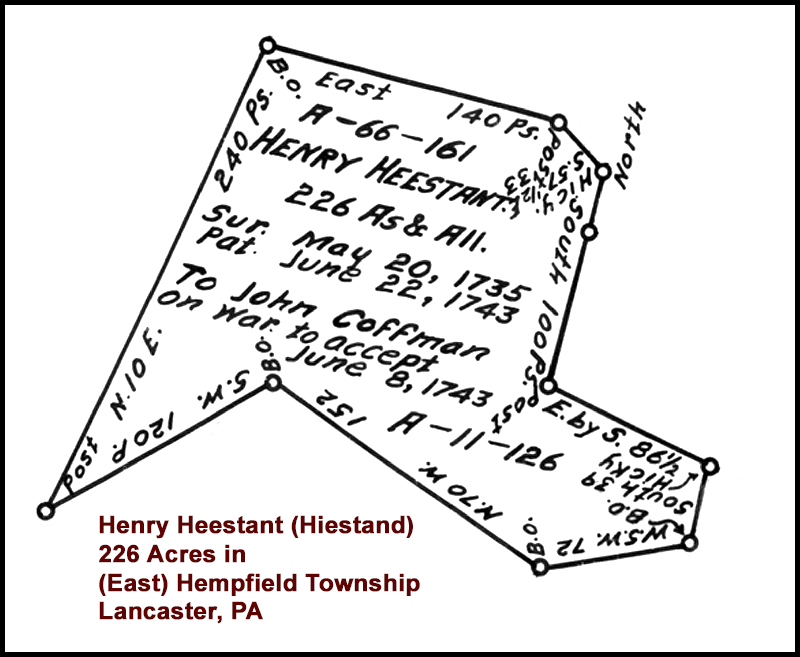 Source of surveys - Pennsylvania Historical and Museum Commission - Harrisburg, PA
RG-17 Records of the Land Office
Copies Surveys, 1681-1912
---