South Fork of the Shenandoah River Property
(What is now Page County, VA)
---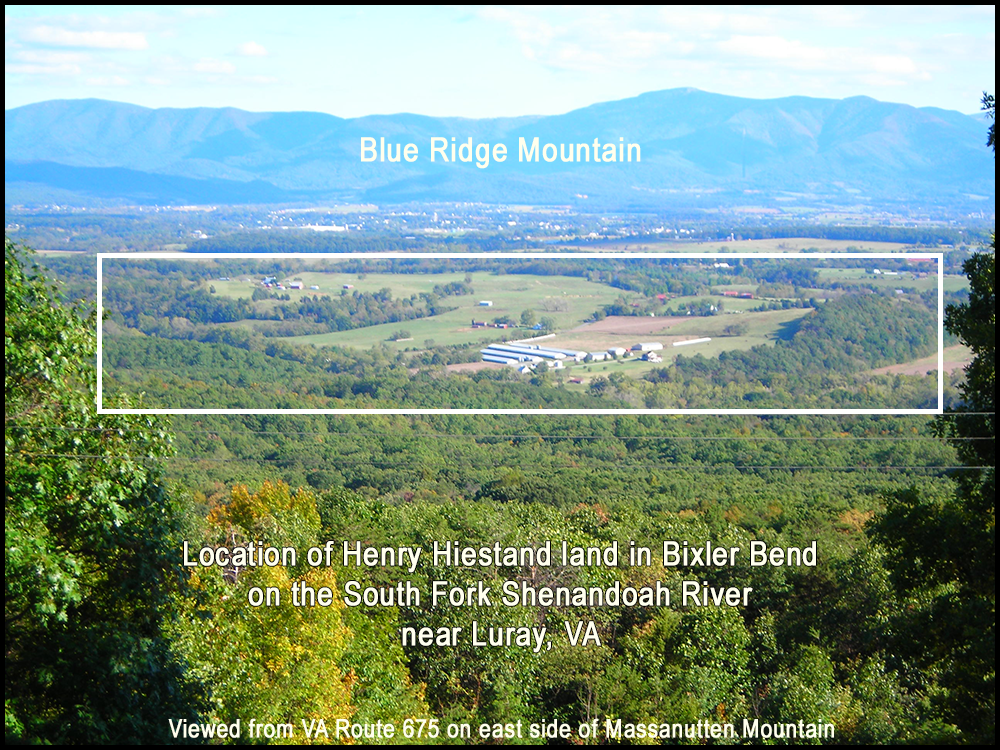 Henry Hiestand's South Fork of Shenandoah River Property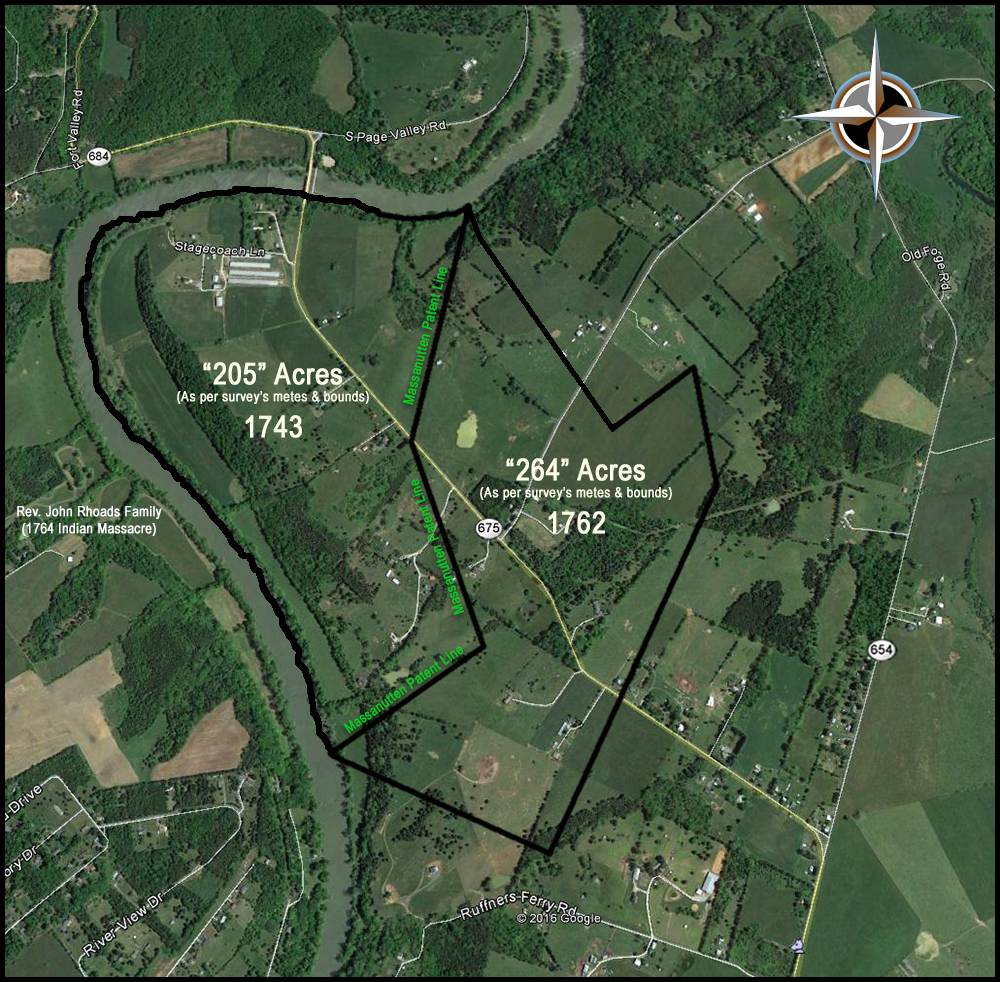 "Cursor over" the above image to see the land inherited by sons Jacob, John, and Peter in 1777.
What is the explanation for the discrepancy between what appears to be a total of 469 acres that Henry acquired in 1743 (205 acres) and 1762 (264 acres) AND the total amount of land (792 acres) three of his sons inherited from him in 1777?
For possible explanations - read the section below.
205 Acres Tract - 1743
Although we have no reliable date for the birth of Daniel Haston, given a number of factors - such as the date of his marriage to Christina Nave, date of his children's births, later court records, etc. - it is likely that he was born in about 1750. Therefore it is also likely that Daniel was born on this South Fork Shenandoah River homestead of Henry Hiestand's family.
---
Philip Long (b. 1680 c.) purchased 205 acres and 800 acres on the east side of South River Shenandoah from Ludwick Stone for 100 pounds on 22 March 1737/38. (Tract 111E, Map 14) The 800-acre tract was the northernmost and its south line was the mouth of Stoney Creek. Page County Highway 634 west of Highway 616 proved access to this property on the north and Highway 616 north of U.S. Highway 340 runs along the southeast property line.

The following information is very inaccurate. The 205 acre tract that Philip Long sold to Henry Heastand was not in the Alma, VA area. It was several miles farther down the South Fork Shenandoah River in what was later called Bixler Bend, where the current Bixler Ferry Road (on VA Route 675) crosses the river.

The southern 205-acre tract was located at present-day Alma, Virginia and is accessible by U.S. Highway 340 and Page County Highway 650 from Alma to the mouth of Honey Creek at the south property line. Philip sold the 205-acre tract to Henry Heastand for 54 pounds, 16 shillings and 6 pence on 21 September 1743.133 133Orange County, Virginia Deed Book 2, p. 260; Book 7, p. 417.

Page 453 of Pioneers of Old Frederick County Virginia by Cecil O'Dell (Westminster, MD: Heritage Books, 2007)
---
This 1743 survey appears to be incorrect and Henry seems to have been the beneficiary of an extra 100 or so acres in this real estate deal with Philip Long.
Pages 417-418 of Orange County, VA Deed Book 7

The tract that Henry purchased in 1743 was supposed to contain 205 acres "more or less." But, in reality when the metes and bounds call are plotted, it appears to have contained approximately 310 acres.

Perhaps the fact there was nearly two miles of bending riverfront explains the discrepancy. It must of been quite difficult, in those days, to survey bending river frontage accurately.

"205 Acres" - 1743 from Philip Long

Date: September 21, 1743
From: Philip Long
To: Henry Heastand
Consideration: Five shillings
Metes and bounds:
Point: Forked ash on Shenandoah River
Line: S22W; 140p;
Line: S14E; 130p;
Line: S61W; 110p;
Point: Follow river to beginning

---

From Jacob Stover to Ludwick Stone to Henry Heastand

According to Harry M. Strickler, Jacob Stover delayed in conveying 1000 acres of the Massanutten patent to Ludwig Stone. But when the conveyance was made on March 22, 1737, Stover conveyed 1050 acres--800 acres to Philip Long in Long Bend (near Alma, VA) and 205 acres to Long in East Bixler's Ferry Bend (about 10 miles north of and down river from Long Bend). But what about the additional 45 acres that was conveyed from Stover to Long that is not accounted for in the 800 acres and "205" acres tracts?

Original Sources:

Granted to Ludewick (Ludwick) Stone from Jacob Stover: November 24, 1737 in Orange County, VA Deed Book 1, page 190.

Granted to Philip Long from Stone: Recorded on March 22, 1737 (or 1738) in Orange County, VA Deed Book 2, pages 260-261.

Source: Pages 34 & 121 & 129-131 of Massanutten: Settled by the Pennsylvania Pilgrim 1726 by Harry M. Strickler (originally published in 1924 and now published by Literary Licensing, LLC.)
---
264 Acres Tract - 1762
Page 6 of Frederick County, VA
Deed Book M

When he metes and bounds calls are plotted for this survey, the configuration and size appear as they do on the image above. But it is apparent that this 1762 "264 acres" tract is smaller than the 1743 "205 acres" tract. As noted above, it appears that the 1743 tract actually contained more than 300 acres. So, the 1743 tract would be larger than the 1762 tract, if indeed the 1762 tract only contained 264 acres.

But when Henry Hiestand transferred his South Fork Shenandoah River land to three of his sons (Jacob, John, & Peter) in March of 1777, the total amount of land transferred was 792 acres.

232 acres to John
230 acres to Peter
330 acres to Jacob
792 total

So, how do we account for this discrepancy? Even if the 1734-purchased land contained 310 acres, where did the additional approximately 482 acres come from, if the 1762-purchased tract only contained 264 acres? There are at least two possibilities:

The 1762 tract survey is vastly inaccurate and it actually contained nearly 500 acres, rather than 264. Perhaps this 1762 tract was much larger than 264 acres and it extended back to what is now Route 654.
Henry acquired additional adjacent land at some point, for which we have no record of the acquisition.

Download page 6.

"264 Acres" - 1762 from Lord Fairfax

Date: August 2, 1762
From: Thomas Lord Fairfax
To: Henry Hestant
Metes and bounds
Point: Forked ash and butterwood on south of river - corner of Massanutten tract
Line: S12E; 24p; along line of marked trees
Point: white oak and red oak corner to John Bumgarner
Line: S30E; 140p; with his lines
Point: his corner two pines
Line: N60E; 60p; with another of his lines
Point: pine in his line
Line: S6E; 70p;
Point: pine
Line: S30W; 240p;
Point: large pine
Line: N60W; 142p;
Point: line of old Massanutten Tract
Line: N61E; 110p; with lines of said tract
! Strickler map says 110 poles - which seems to be correct according to the original metes and bounds for the Jacob Stover 5000 acres Massanutten tract.
! Deed says 34 poles
Point:
Line: N14W; 130p;
Point:
Line: N22E; 140p;
! Strickler map says 140 poles - which seems to be correct as per the 5000 acres Massanutten tract survey.
! Deed says 160 poles
Thoughts Regarding the Values/Costs of Henry's Lands in
Lancaster County, PA and Orange County*, VA in 1737-1743
*Would eventually become part of Page County
Henry paid 54 pounds, 16 shillings and 6 pence (as per one document and 5 shillings - assumed to be per acre - from another document) for the 205 acres on the South Fork of the Shenandoah River that he purchased from Philip Long.
Note: Philip Long paid 100 pounds (2,000 shillings) for 800 acres [near Alma, VA on the South Fork Shenandoah River] + 205 acres [land Henry purchased from him, also on the same river] in 1737 or 1738 in Orange County, VA.
Compare the amount that Henry paid for the 205 acres in Virginia to the 35 pounds and six pence [6 pence = 1/2 shilling] that John Coffman paid for the 226 acres in Lancaster County in 1743.


Why would Henry have paid 20 pounds more for 21 fewer acres in Virginia than his 226 acres in Pennsylvania was worth - especially since Lancaster County land was in greater demand at the time?


Maybe it had something to do with the fact that the 205 acres tract in Virginia has approximately 1.8 miles of frontage on the South Fork of the Shenandoah River, whereas the 226 acres in Lancaster only had a small stream (or "run") running across its southwest corner.
Deed for the 205 acres in Virginia - download pages 417-418 and pages 419-420.
Orange County, VA Deed Book 7, Pages 417-418 and 419-420.

Document on pages 417-418 gives the price of 5 shillings, apparently per acre.
Document on pages 419-420 gives the price of 54 pounds, 16 shillings, and 6 pence, apparently total price.
---
Massanutten (Jacob Stover) Patent Map
Created by Harry Strickler (approximately 1924)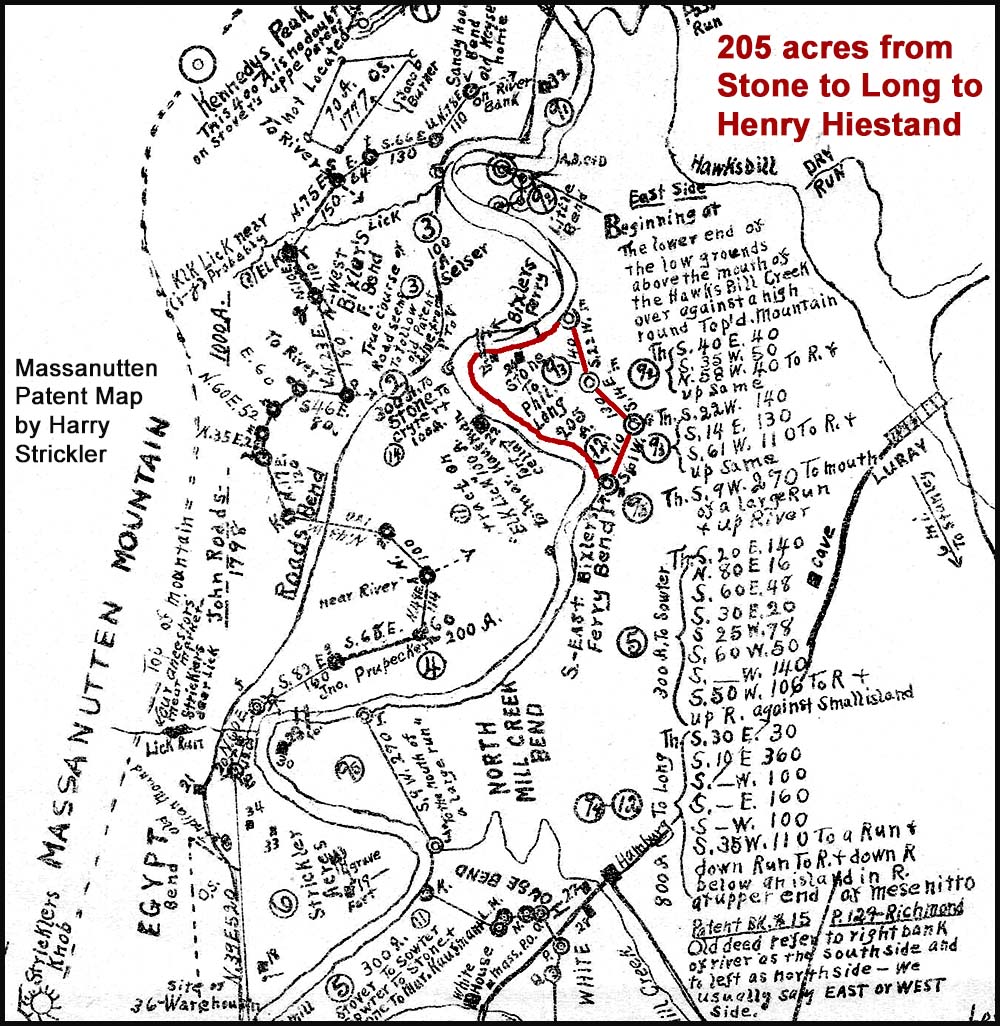 Download Full Size Massanutten Patent Map - 16" x 7.5 " (1.31 MB)