Caspar Wistar's Role In Assisting Henrich Hiestand
Caspar Wistar (1696-1752) and Henrich Hiestand's backgrounds were alike in several ways. Caspar was eight years older than Henrich Hiestand and arrived in Philadelphia at age 21 on September 16, 1717, probably about ten years before Henrich's arrival. Both were single young German-speaking immigrants when they arrived. Caspar grew up in the Neckar River valley in Germany, in a small village of Waldhilsbach of the east side of the Rhine River, southeast of Heidelberg. Henrich was from the small farming village of Ibersheim, on the west side of the Rhine River, about 45 miles northwest of Waldhilsbach. So, both were Palatine Rhinelanders.
But there were some things about their backgrounds in the Palatinate and their fortunes in America that were quite different. Caspar's father was a forester for the Elector of the Palatinate and he grew up in a mixed-religion home--his father was Lutheran and his mother was a member of the Reformed Church into which Caspar was baptized. Henrich's family were exiled from Switzerland because of their unwavering commitment to the Anabaptist/Mennonite faith. And they were farmers working the land around Ibersheim under restrictions not imposed on families of other faiths.
In Philadelphia, Caspar learned the business of making buttons and soon ventured into the business of real estate investing. By the time Henrich Hiestand arrived in Philadelphia, Caspar had already become a relatively wealthy man. But not forgetting his roots, he assisted many German-speaking immigrants with loans and land sales. His German ethnicity and bilingual language skills, profited him greatly. But, even as he gained wealth from these connections to German immigrants flooding into Philadelphia, at the same time he also provided them services that were helpful to, and appreciated by, them.
In Rosalind Beiler's research on Caspar Wistar, she discovered some information about Henrich Hiestand's early years in America that is of great interest to those of us who claim Henrich Hiestand as our immigrant ancestor.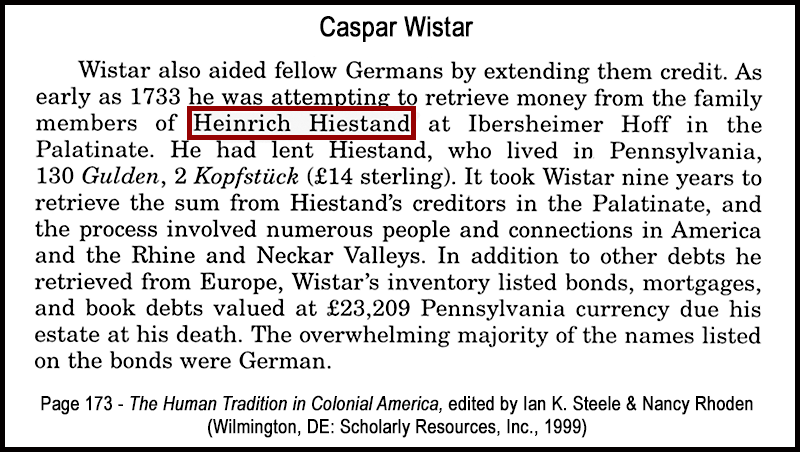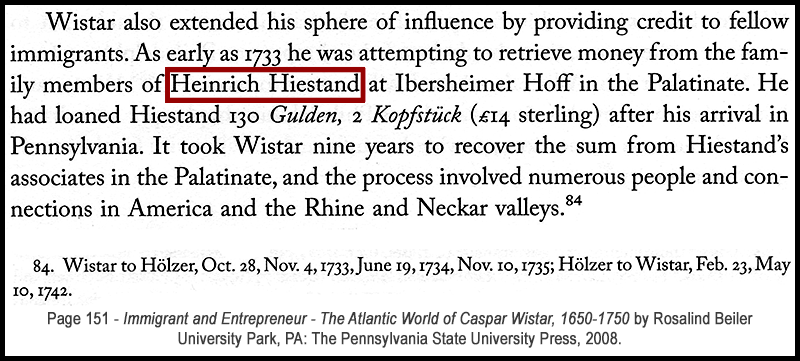 What we learn or confirm from these two books:
Heinrich Hiestand's family lived in Ibersheimer Hoff in the Palatinate (Southwest Germany near the city of Worms).

Heinrich was definitely living in Pennsylvania in and before 1733.

Heinrich did not come to America with a lot of money.

Heinrich did have access to some financial resources back in Germany.

For some reason or reasons, it took Caspar Wistar nine years to collect the payment for Heinrich's debt.

If the nine years extended from 1733 to 1742, then Heinrich paid his debt to Wistar at about the same time he was preparing to sell his Lancaster County, PA land in order to move to Virginia.

Some Questions About Caspar Wistar's Financial Assistance:
Was this money used to pay for Henrich's transatlantic fare to America? Or...

Was this money used to pay for the 226 acres Henrich purchased in Hempfield Township of Lancaster County?
See Rosalind Beiler's comments below.
Did Henrich purchase his Hempfield Township land from Caspar Wistar?
Note: A map showing Wistar's land holdings in Pennsylvania does not indicate the he owned land in the area of Hempfield Township. Source: Page 117 of Immigrant and Entrepreneur by Rosalind Beiler (University Park, PA: The Pennsylvania State University Press, 2008).
---
Kent Hiestand's Comments About the Wistar Correspondence
August 18, 2015

Wayne,

We corresponded some years ago about the Wistar letters. I obtained photocopies but there is no concrete or direct link to who Henrich's relatives were.

In 1733 he was supposed to get the money from Peter Obmann who was one of the 1683 Ibersheimer Erbbeständers (lease holders) and probably the brother-in-law of Conrad Hiestand another 1683 Ibersheimer Erbbeständer. The go between was Jacob Schnebeli residing in Mannheim and the son of the Mennonite "Diener" (Preacher) Hans Jacob Schnebeli of Ibersheim who signed the 1709 letter to Amsterdam along with a Heinrich Hiestand of Ibersheim.

The later Wistar letters (1742) refer to getting the money from a Jacob Hiestand and a man named Forrer (married into Hiestands), but again no relationship mentioned.

His name was spelled Henrich and not Heinrich in the Wistar letter just like the signature on his will and on the 1728 naturalization papers.

Kent Hiestand
Rosalind Beiler's Comments About the Wistar Correspondence
January 22, 2017

Hi Wayne,

The money Wistar loaned Hiestand would have been too much for ship passage. It was 131 Gulden and 2 Kopfstuck. I haven't checked to see exactly how much this was at the time but my sense is that it more likely would have been for a land purchase.

Regarding land purchases - you should definitely go to the PA state archives, where they have microfilm copies of all of PA's county deeds. It's pretty easy to find abstracts as well - so you should be able to track down Henrich Hiestand's purchase. If I recall correctly, they (abstracts of deeds) were published by a genealogical society for Lancaster County. I'm not sure if he purchased land from Wistar. It would take me some time to go back through my records to see if that was the case. I read all of Wistar's deeds while at either the PA state archives or the Historical Society of Pennsylvania (there are literally hundreds of them!). But, sadly, they are in a dos-based database that is no longer easily accessible. The joys of technology!

I've glanced briefly at your website - you have clearly done a lot of research! I have also gone back to Wistar's letters. There is not much information in there regarding this money. It's all in German. The first mention is in 1733 and the last in 1742. Wistar's business partner in Neckargemuend does receive the money just before Easter in 1742. Whether it ever made it to Wistar and, if so, in what form, is impossible to know as the letters do not continue beyond that year. It's all very sketchy as we don't have complete sets of correspondence. I don't have any records that tell me how Wistar loaned him money (whether it was cash or for land). I never found accounts for Wistar. And Hoeltzer doesn't say how he was paid (though Wistar does ask Hoeltzer to let him know if he gets paid in silver or gold). In Wistar's letters to Hoeltzer, Peter Obman, in Ibersheimer Hoff, is holding the money for Henrich Hiestand (in PA). By the time Hoeltzer writes back in 1742, he reports (in February) that he hasn't received the money from Jacob Hiestand in Ibersheimer Hoff. He also mentions Forer at Ibersheimer Hoff - but includes no first name. When he writes in May 1742 that he received the money, Hoeltzer tells Wistar that he had to pay a bond in order to collect the debt. He refers again to Forer and Hiestand. He also mentions that they are Mennonites and are very distrustful.

That's really all that I can glean from these letters! Sorry, they are all about business.

Hope this is helpful,
Rose

Rosalind J. Beiler, Ph.D.
Associate Professor
University of Central Florida
Dept. of History
12790 Aquarius Agora Dr., Suite 551
Orlando FL 32816-1350
---