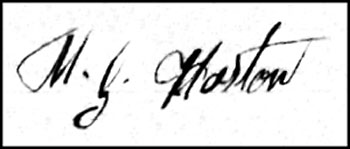 Montgomery Greenville/Greenfield Haston was a prominent Van Buren County, TN citizen during the middle decades of the 1800s.
During his life, he served civically in a variety of roles:
Van Buren County 3rd District Constable
Van Buren County 4th District Justice of Peace
Van Buren County tax collector
Captain in the home guard (early Civil War era)
He was born August 16, 1823* and died December 20, 1869 in Van Buren County and is buried in the Big Fork Cemetery. He was born in Tennessee, according to Federal Census records. On March 27, 1847 he married Rachel Wheeler.
*1850 & 1860 Federal Census records indicate that he was 25 and 35 years old in those years, which would place his birth date in 1824 or 1825.
M.G. Haston served as a private in Company C (formerly "E") of the 35th Regiment of the CSA Tennessee Infantry.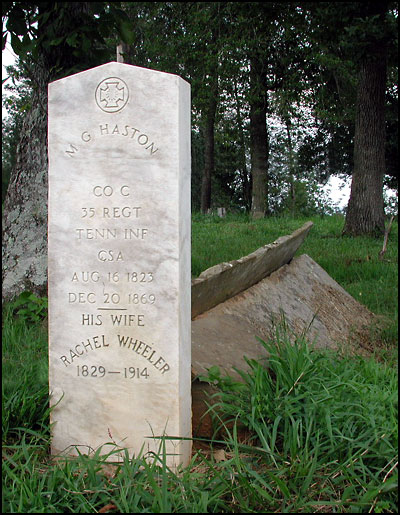 According to his CSA Army muster records, he mustered in (joined) on June 16, 1863 in McMinnville, TN (for three years). However, the records also indicate that he deserted on (or perhaps before) July 31, 1863 and carried off 26 percussion caps.
On April 6, 1863 M.G. Haston (4th district of Van Buren County) resigned his office as Justice of the Peace. He also resigned his office of tax collector for Van Buren County, TN on the same day. On March 2 of this same year (1863), he had resigned his office as enrolling officer. Apparently, he was preparing to enlist in military service. Source: Pages 150 & 156 of the Van Buren County, TN court minutes for this period. TSLA microfilm reel # 14 for this county.
The first mention of M.G. Haston that identifies where he lived in Van Buren Count was his August 1845 election as constable of the 4th district, which position he resigned in January 1846. In April 1847, he appeared in the 3rd district. Later, he settled back in the 4th district.
His first child wasn't born until September 24, 1848, so it is likely that he wasn't married until sometime in 1847. Perhaps he was wed to Rachel Wheeler in early 1847, which might explain his move from one district to another in or around that time.
His last 1850s road crew appointee appearance in the Van Buren County county court minutes was in the September 1851 term, about the same time that David McHaston is last mentioned in the county court minutes. Montgomery G. Haston does "come into open" court in the August 1853 circuit court for Van Buren County. There is a January 1854 reference to an affray case for the Van Buren county court that had been settled earlier, perhaps in the previous year: State vs. David Lewis and M.G. Haston. Did this affray case have something to do with the fact that he moved to Georgia for approximately five years? M.G. Haston reappears in the Van Buren County circuit court minutes in December 1858 and the Van Buren County court minutes in January 1859.
In 1850, he lived next door to Sarah Haston, wife of deceased Joseph Haston. According to the 1860 census, his two at-that-time youngest children (Mary J. and James Burden) were born in Georgia. Thus, he must have spent part of the previous decade in Georgia. (Walker County, GA as per some Montgomery G. Haston descendants.)
Van Buren County, TN Deeds:
On November 3 1858 he bought four tracts of land (1163 acres more or less) from Nathan Durham at a price of $900. Some of the locations mentioned: 4th civil district, west side of Cane Creek, foot of high rocky mountain, "to Cane Creek," corner of Nancy Brock tract now owned by Jesse Brock - beginning deed from I.B. Haston dated June 28, 1841, crossing Dry Fork of Cane Creek. Source: Page 548-549 of Van Buren County, TN Deed Book B (TSLA microfilm reel #62 for this county).
Also on November 3, 1858 he bought 126 acres from James Durham in district 4. Some of the locations mentioned: foot of the mountain where the road takes up the mountain, Nathan Durham's line, William McCormack's corner, top of the bluff, meanders of the bluff, bank of Cain Creek. Source: Page 550 of Van Buren County, TN Deed Book C (TSLA microfilm reel #62 for this county).
On February 23, 1859 he bought 19+ acres from Carter Drake in district 4. It was at the foot of the mountain at James Durham's corner and was adjacent to Wiley Steakley's and Isham B. Haston's corner (who had moved away from the county about 15 years earlier). Source: Page 117 of Van Buren County, TN SurveyBook A (TSLA microfilm reel #48 for this county).
On July 28, 1865 he and Rachel leased their land for 25 years unto J.M. Walker for boring, mining, and excavating for petroleum coal, rocks or carbon oil and other valuable minerals; bounded on east by Allen Brock's land, on west by Aaron Sitzes (Seitz') lands and on north by Carter Drake's, J.J. Walker's, Wm. McCormack, & W.B. Haston's lands, on the south by John Roman's (?), Sils (?) Acuff's, and I. Buyer's lands. Source: Page 211 of Van Buren County, TN Deed Book C (TSLA microfilm reel #26 for this county).
M.G. Haston's farm: http://histpres.mtsu.edu/centfarms/vanburen_county/#Haston_Farm_1858
But who was M.G. Haston's father? Through what family line was he related to Daniel Haston? He certainly lived in communities where Daniel Haston's offspring lived and interacted closely with them in numerous official transactions.
He did not appear in the Van Buren County court minutes until March 1845, when he would have been 21 or 22 years old. If he grew up in Van Buren County, it is curious that he did not receive an appointment to work on a road crew (etc.) in the three or four years prior to 1845, when he would have been 18 years old and older. For example, William Carroll Haston (youngest son of David Haston) was appointed to a road crew just a month or so after his 18th birthday.
The only two known sons of Daniel Haston who remained in the White & Van Buren County areas of TN were David Haston and Joseph Haston.
The David Haston Bible family record does not include M.G. Haston. References to the children of Joseph & Sarah Haston, in land transactions, do not include M.G. Haston (although in 1850 he did live next door to Joseph Haston's widow, Sarah). He doesn't appear in the 1830 census records, as a member of the households of David Haston or Sarah (widow of Joseph) Haston.
Was he a son of David or Joseph, but was...for some reason...not included in these records?
Was he a son of one of the other sons of Daniel (example: Jesse or Isaac, who moved to MO), but decided to remain in TN or return to TN from Missouri after having moved there with his parents?
Was he a grandson of Daniel, through David's son, Willie B. Haston (b. 1806), or Joseph's son, James Alfred Haston (b. 1807)? If so, we have no record of his sonship to these men?
Was he from another Haston family, related to Daniel Haston' family but who lived somewhere other than White and Van Buren counties of TN?
Was he adopted into one of the Haston families and thus took on the G_____ surname as a middle name?
It is noteworthy that the given or middle name "Montgomery" does appear frequently down through the Daniel Haston family, for many generations. Haston family tradition has repeatedly suggested that Daniel's middle name was "Montgomery" and there is some evidence to support that assertion.
Regarding the Greenville (or Greenfield?) middle name, David Haston's daughter Loucinda married Abraham Greenville Trogdon. Was there some kind of common connection between these two men?
DNA Evidence Regarding M.G. Haston's Relationship to the Daniel Haston Family
August 7, 2010

(Addressed to a male descendant of Montgomery Greenville Haston)
I input your DNA results into the Sorenson database.
There is absolutely no match with my (Wayne Haston, descendant of Daniel Haston) DNA. You don't see my DNA numbers of the attachments, but I found that very few markers matched. As you will see, there are many fairly close matches with people from Allred/Aldridge families. Of course this is your paternal line.
It eliminates the possibility of your direct connection to Daniel Haston, at least as a blood relative from the paternal side.
Couple of questions it does raise:
1. Was there any break (adoptions, for example) in the line between you and Montgomery Greenville Haston? It is very possible, since old-timers often took kids into the family and never told them they were adopted and left no records of it.
The next logical step would be to find other male-line descendants of MG Haston who descend through a different line that you did. If that person's DNA matched with Allred/Aldridge families, then we'd could probably assume that MG Haston was an Allred/Aldridge by birth.
2. If there was no break in your paternal ancestry back to Montgomery Greenville Haston, then that would indicate (as I understand it) that he was probably from the Allred/Aldridge family and took on the Haston name for some reason...probably formal or nonformal adoption into one of the families of Daniel's children--most likely David Haston or Joseph Haston.
I think it's enough of a clue that we need to investigate early connections between the early Haston family in White/Van Buren counties with a family with the Allred/Aldridge surname. We do know that at one point Montgomery Greenville Haston moved to some unknown-to-me place in Alabama for a few years.
I may be missing something here in my thinking, so don't take this as "fact" until we can think it through better.
If you learn anything, let me know. I'll do the same with you.
Wayne
Important note: We need DNA testing from other males who descended from M.G. Haston.
Please contact WayneHaston@aol.com if you can help with this.
Please contact us if you have ANY additional information on this M.G. Haston.