Mill Creek Baptist Church - Village of Hamburg near Luray in Page County, VA
---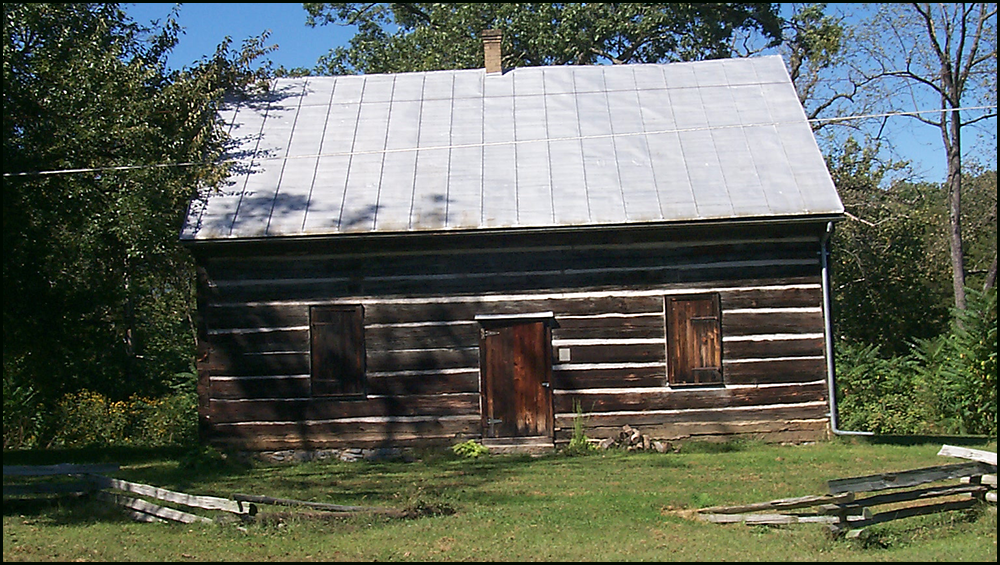 The log church building (pictured above) is situated two miles west of Luray, VA where the old road in the village of Hamburg (county route 766, just off U.S. 211) crosses Mill Creek (38° 39.514′ N, 78° 30.729′ W).
Much has been written about the Mill Creek Church located near what is now Luray, Virginia, but only in bits and pieces of chapters in various books or articles by a wide variety of writers. Much of what we know - or think we know - is based on oral history or other sources that can not be verified as factual. And contradictions between the sources are common. For example, the historical perspective of the Mill Creek Church as recorded by Mennonite historian Harry Anthony Brunk (History of Mennonites in Virginia, 1727-1900) is very different from the perspective presented by Baptist historian Robert B. Semple (A History of the Rise and Progress of the Baptists in Virginia).
But, there are some reliable documented facts that help to frame a history of this historic church--a mother church that greatly impacted its community in its heyday and influenced many churches far beyond its locality in the little village of Hamburg, VA.
The following historical overview attempts to be as factual as possible, based on documentation of varying degrees of solidity or knowledge that has been commonly accepted as valid. But, in cases where opinions are all we have to fill in the gaps, I have tried to make it clear that I have left the realm of known facts in order to meander in the realm of possibilities.
The Mennonite Era
In 1733 Jacob Stover was granted a patent for a 5,000 acres tract on the east side of the Massanutten Mountain and began conveying deeds shortly thereafter. Very soon then, and probably even before the patent was granted and deeds could be officially conveyed, Swiss-German Mennonites began occupying Stover's land, moving into the Massanutten settlement and surrounding areas. Most of them had immigrated through Philadelphia and settled briefly in Lancaster County, Pennsylvania before seeking more, better, and cheaper land in the northern neck of Virginia.
As was the common practice of Mennonites in those days, religious services were conducted in their homes. Due to the religious intoleration their ancestors had experienced for more than 200 years in Switzerland and Germany, Mennonites had never enjoyed the luxury of regular meeting houses like Catholics, Lutherans, Anglicans, or members of the Reformed Church.
One of the earliest Mennonites to settle in the Massanutten settlement was John Rhoads, a minister. Rhoads likely arrived in Philadelphia on August 24, 1728 and probably moved directly to Virginia. Other Mennonite ministers such as Jacob Strickler and Martin Kauffman I (died in 1749), all of whom were untrained lay ministers, were among the early Swiss-German pilgrims in the new settlement. So there is little doubt that Mennonite religious meetings were conducted in homes of these Mennonite families from the outset of their arrival in the Massanutten area. Whether or not these Mennonite meeting groups considered themselves to be a singular church in those earliest years, we do not know.
Until about 1800, the Mennonite leaders in Virginia were ordained in Pennsylvania and matters of ecclesiastical oversight were vested in the Lancaster County conference. Mennonite churches of Virginia were considered to be an arm of the main body of American Mennonites, that body being located in Pennsylvania.
In about 1760, Martin Kauffman II (son of Martin I; Martin II died 1805), a Mennonite minister as was his father, built what is somewhat famously known as the "White House," on the east bank of the South Fork Shenandoah River where US Highway 211 now crosses the river. The house was built during the French and Indian war (1754-1763) and included a fort cellar, for protection in case of Indian attacks. For its time, the White House was a large home, large enough to accommodate a fairly large congregation of Mennonites who came there to hear Martin Kauffman II preach. At some point in time, the name "White House Church" began to be used to identify Kauffman's congregation.
The Baptist Revival
John Koontz, a man of German descent, was living in Front Royal near Winchester, VA in the 1760s when he began to be influenced by the sermons of Baptist preachers. In December 1768, Koontz traveled to Fauquier County, VA and was baptized there, becoming a Baptist. Soon after his baptism, he began to preach in the area near where he lived. John's brother, George, lived in the Mill Creek community of then-Frederick County, approximately 25 miles south of Front Royal. In November 1770, John visited his brother and learned that the people there, even most of the religious ones, were ignorant of the genuine grace and true peace of God through Jesus Christ the Savior. When John preached there, God opened many hearts and he returned often to preach prior to moving into the Mill Creek community in the mid 1770s.
Being the son of a German immigrant, Koontz could preach in German or in English and would often do both with the same congregation. His ability to do German-English bi-lingual ministry in a community heavily populated with German speakers was a significant advantage for him. According to 19th century Baptist historian James B. Taylor, vast crowds attended his meetings and other Baptist ministers, such as Lewis Craig, Samuel Harris, James Ireland, Anderson Moffett, and John Picket, visited the county and assisted in the novice preacher's exciting ministry. Elders Samuel Harris and Lewis Craig (and probably other visiting ordained ministers) baptized those who were converted, because Koontz was not yet ordained in the earliest years of his preaching ministry.
The response to his preaching greatly affected many of the Mennonites of the area and a Baptist revival broke out in and around the Mill Creek community. If the assessment of a Moravian missionary who visited the area in 1748 is accurate, the spiritual life of many of these Mennonites was probably non-existent and their religion was nothing more than formalities. No doubt, the fruit of revival was ripe for the picking.
But Koontz's Baptist work was not without opposition and occasionally he was physically beaten by ruffians. Mennonite leaders opposed the Koontz ministry in general and the man John Koontz specifically, seeing the Baptist revival as "the work of Satan." Hearing of the Baptist encroachment into the Virginia Mennonite community, several Mennonite preachers from Pennsylvania visited his home in attempts to persuade him to change his doctrine. These labors were in vain and Koontz stood firm on his Baptist convictions. And Koontz commented that these visiting Mennonite leaders were "entire strangers to vital godliness, denying the existence thereof." An inscription of his memorial monument highlights the hardships he endured: "No primitive Baptist preacher suffered more at the hands of opposers."
Although preachers Anderson Moffett and another minister (Martin Kauffman II) were in the congregation in the early 1770s, in 1774 or 1775 the church asked John Koontz to be their pastor, even though he was probably still living in Front Royal. In October 1776 John Koontz was deeded 86 acres from David Kaufman, another son of Martin Kauffman I, in Shenandoah (later, Page) County and moved there from Front Royal. Ten years later (March 29, 1786) he sold that land to Daniel Mauck. At about the time he moved to Shenandoah County, Koontz was ordained and received the title of "Elder" and began to pastor the Mill Creek Church, in which role he continued for about 50 years. Anderson Moffett became the pastor of the Smith Creek Baptist Church in New Market, west of the Massanutten Mountain.
Some sources say that the Smith Creek Baptist Church was constituted off of the Mill Creek Baptist Church, but an official Baptist document indicates that the Smith Creek Church was started more than a decade before John Koontz began preaching in the Mill Creek area.

A church constituted August 6, 1756, at Smith Creek, a branch of North Shannandoah, in the province of Virginia, was received into the Association the first day of meeting. The first, and present minister of this church, is the Rev. John Alderson. The original constituents were but eleven, now they are thirty, including the eight that were baptized this year. One died since the constitution.
Source: 1762 Minutes of the Philadelphia Baptist Association Minutes

Henry Strickler (pages 279-280, Short History of Page County, VA) surmised that, while the Smith Creek Baptist Church was constituted in 1756, due to the evacuation of the area during the French and Indian War (1754-1763) the church probably became inactive during the war. Then, the church was restarted near the end of the hostilities through the influence of the Baptist revival that was spreading from Mill Creek. But this still does account for the fact that 1762 was a few years before John Koontz arrived at Mill Creek, across the Massanutten Mountain from Smith Creek.
The Mennonite preacher Martin Kauffman II was one of Koontz's first converts, but he retained some of his Mennonite convictions when he adopted immersion as the only correct mode of baptism and some other Baptist distinctives in order to join the Koontz movement. Many other Mennonites followed Kauffman's lead and began uniting with the Baptist group. After his conversion, Kauffman was quickly accepted as a Baptist minister. John Koontz and Martin Kauffman then became co-labors in the ministry of the Baptist church on the South Fork Shenandoah River near Mill Creek. The Martin Kauffman home ("the White House") which had been used for Mennonite meetings probably began to be used for Baptist meetings at this time or shortly after. By around 1770 a flourishing Baptist church had been planted in this community--a community largely consisting of Mennonite families. Eventually, nearly all Mennonites of the county would adopt the Baptist faith.
The Hiestand family was one of the Mennonite families to be impacted spiritually by the Baptist ministry of Rev. John Koontz, which might be expected since Koontz, for a while, owned land adjacent to the Henrich Hiestand family. Although we do not know the full extent of his influence on the Hiestands, we do know that he officiated marriages for some of Henrich Hiestand's grandchildren, Jacob's children: Jacob (1784), Abraham, to the widow of Mennonite minister Jacob Strickler (1787), Elizabeth (1784), Magdalena (1799) and John, to the daughter of Mennonite minister Jacob Strickler (1794). Source: "Samuel Hiestant" - Wikipedia.
Note: There is some apparent discrepancy between 1784 of the Hiestand marriages and the August 25, 1785 date when Koontz was first granted legal permission to perform marriages.
But Abraham Hiestand (same person as in the previous paragraph), grandson of Henrich Hiestand through Jacob, signed himself in 1794 as "minister of the Church of the Mennonite Society" before he joined the young fledgling United Brethren denomination as did his brother Samuel. ("Samuel Hiestand," Wikipedia) So in the 1790, there were still Mennonites in the area and Jacob's son Abraham vacillated back into the Mennonite fold. In his classic work, A History of Shenandoah County, Virginia, John Wayland stated that when a Mennonite settlement was formed in the Thornton Gap area, three miles east of what is now the town of Luray, Abraham Hiestand ministered there as early as 1786. And in 1794, Abraham was the first Mennonite in Virginia to issue a certificate of church membership. In 1790, Abraham build an impressive stone house on the original South Fork Shenandoah River land his grandfather purchased in 1743. Soon after the house was built, he traded the house to Colonel Daniel Strickler for land in Thornton's Gap, probably to be nearer the church in which he minstered.

Note: Did Baptist preacher John Koontz perform the wedding of Abraham Hiestand to the widow of Mennonite minister Jacob Strickler in 1787, if Abraham was a Mennonite minister at the time? Perhaps there was no Mennonite minister qualified, at the time, to perform marriages.
From Christian Newcomer's Journal we know Samuel Hiestand's family was already associated with the Church of the United Brethren in Christ and one of its founders as early as 1796. "On the 20th [October 1796] I rode to Messinurte; [Massanutten] on the 21st preached here with uncommon liberty, from Matthew 5 — v. 3. At candle light, I spoke at Br. Hiestand's, from Psalm 44-v. 15. The people here are rather hardened: may God have mercy on them." "5th [August 1799]—After considerable enquiry and difficult search, I this day arrived at Br. Hiestand's, where I lodged for the night."

Source: Page 22 of The Life and Journal of the Rev'd Christian Newcomer, Late Bishop of the Church of the United Brethren in Christ, translated by John Hildt, printed by F. G. W. Kapp, 1834.

Note: In January 1807, Abraham Hiestand was on a jury in Fairfield County, Ohio.
Source: Page 32 of Pioneer Period and Pioneer People of Fairfield County, Ohio by C.M.L. Wiseman (1901).

Note: On July 8, 1810 (and on a few other subsequent occasions) Christian Newcomer stayed at Abraham Hiestand's house, west of Zanesville, Ohio. (Page 189, Newcomer's journal)

Reverend Abraham Hiestand died in Harrison County, Ohio.
Henrich Hiestand, Daniel Haston/Hiestand's father, would have been in his mid-60s when Koontz began his Baptist ministry there and while many of his Mennonite neighbors were abandoning their religious roots, roots that were generations-deep. How did he respond to the Baptist revival? We do not know for sure. In November 1776, he was still making a "solemn affirmation" (instead of taking an oath), which would be consistent with Mennonite convictions. And in his March 22, 1777 will, Henrich censured his son Daniel and his daughter Magdalena for, as he said, "a reason which I now do not like to mention." Many of Henrich's descendants have conjectured that Daniel and Magdalena might have converted and become Baptists, thus displeasing their diehard Mennonite father. That is certainly possible, and it fits the era of Baptist fervor in the Mill Creek community. Add to that the fact that Mennonite Dr. John Neff/Nave (died 1784), father of Daniel's wife Christina Nave (married September 28, 1773) did not mention Christina in his will, although she was very probably his daughter. Did Dr. Nave censure Christina for the same reason Henrich censured Daniel--leaving the Mennonites to join the Baptists? All of this is conjecture, based on limited evidence.
Daniel's older brother, Abraham, did leave a Baptist trail as he migrated from Virginia into what became eastern Tennessee (previously western North Carolina). He and is family became members of the Cherokee Creek Baptist Church near Jonesborough, Tennessee and the Big Pigeon Baptist Church near Newport, Tennessee, then later he joined the Mill Creek Baptist Church near Tompkinsville, Kentucky. But even though Daniel traveled from Virginia to eastern Tennessee with his older brother, we have not found a record that (our) Daniel was a member of either of the east Tennessee Baptist churches. And when the Big Fork Baptist Church existed about a mile from where Daniel settled in White County, Tennessee, his name does not appear on any of the extant church records.
The Kauffman-Koontz Split
The December 31, 1787 will of Philadelphia Woodman indicates that she bequeathed "1/2 of her money to Martin Coffman's church to relieve the poor" and "1/2 to John Koontz's church to relieve the poor."
Source: Page 516 of A Genealogy and History of the Kauffman-Coffman Families, Part Two by Charles Fahs Kauffman.
Apparently, the co-leadership of Martin Kauffman II and John Koontz was not long lived in the Baptist church on the South Fork Shenandoah River. As the country entered the Revolutionary War, many of the Baptist church's members began organizing and equipping to defend themselves from Indian and British hostilities. Kauffman's Mennonite anti-war conscience was not prepared to deal with this part of Baptist faith and practice. Elder Koontz did not see the issue as being as important as Kauffman viewed it and tried to persuade Kauffman to remain a Baptist, with the freedom to disagree on the issue of war and defense. But Kauffman's convictions against war were too strong for him to remain in the Baptist congregation and 10 or 12 other ex-Mennonists followed his lead. But apparently the feelings between Kauffman and Koontz remained friendly. Kauffman was known as a very pious man with strong prejudices, but was inoffensive and not harsh toward his Baptist colleague and continued to be affectionate toward Koontz and his Baptist friends. And Koontz passionately pleaded with Kauffman to remain in the Baptist ministry with him.
Rather than return wholeheartedly to the Mennonite denomination, Kauffman made a half-step and pulled away from the Baptist church led by Koontz to begin what would be known, by Baptist minister James Ireland and others, as a Mennonist Baptist Church, an independent congregation, which met in his own home, the White House. This congregation was built around Kauffman's personality, a little man with a strong voice. Mennonite historian Harry Anthony Brunk stated that, at the height of its growth, Kauffman's church had a membership of 60 or 70 members. Koontz's church was probably much larger.
Brunk also said that in 1793, Martin Kauffman petitioned the government of Virginia, in the name of the "Separatist Independent Baptist Church," for military exemption similar to that granted to Mennonites and Quakers. Kauffman's petition was rejected.
In the mid-1790s, as Martin Kauffman was well past his prime age, it appears that his church was disintegrating. Some of the Mennonist Baptist members were seeking to join the Koontz's Mill Creek Baptist Church and "orderly members" from Kauffman's congregation were received into the Baptist church. Brunk says that even Martin Kauffman twice sought to re-enter the Baptist church pastored by his former colleague, John Koontz, but was unable to do so. By this time a Martin Kauffman III (son of Martin II; Martin III died in 1824) was a church leader on the scene and writers often seem to confuse the father and son.
Martin Kauffman II died in 1805. His will (recorded in Virginia in 1809) give 100 pounds to the President of the United States "to be by him applied to use of and relief of any poor and worthy objects of charity in the United States." Why did he not donate this relief money to a church for the church to distribute? Perhaps late in his life he had no church with which he identified.
Prior to or shortly after his father's death, Martin Kauffman III led a group of former members from the White House church to Fairfield County, Ohio and formed the Pleasant Run Baptist Church. Slavery, a very hot topic in Virginia at the time, was likely a major factor in this Mill Creek exodus. Mennonite historian Brunk and Baptist historian Benedict claimed that the move to Ohio occurred in 1801. But other sources say 1805. Perhaps 1805, after the death of Martin Kauffman II, is a more reasonable date. Semple, the 19th century Baptist historian, said that Kauffman's church dispersed after the death of Martin Kauffman II.
In 1813, Baptist historian David Benedict (1779-1874) wrote:
The High German Church at Pleasant Run near Lancaster (Ohio) is most distinguished in that the church was formed of Martin Coffman's followers who seceded from Rev. John Koontz's church near Whitehouse. In 1801 six of these families gave 15 members to the Pleasant Run Church. By 1809 there were 70. Almost the entire Whitehouse congregation moved to the new location in Ohio. the pastors were Lewis Sites, Samuel Comer, and Martin Coffman (III) who preached in English and German. These members were largely drawn from the Mennonites who were opposed to slavery, war, and legal oaths.
Source: Page 521 of A Genealogy and History of the Kauffman-Coffman Families, Part Two by Charles Fahs Kauffman (from Bennedict's History of the Baptist Denomination, 1813).
The Pleasant Run Church minutes indicate the the church was first constituted on April 19, 1806 and Martin Coffman (III) was the moderator until August 1809. Source: "Pleasant Run Baptist Church" in A Complete History of Fairfield County, Ohio by Hervey Scott, 1877.
But a May 1809 entry in the minutes of the Baptist Association held for the Orange District says:
"A letter came to the Association from the Menonist Baptist church, at the White House, praying for a reconciliation; which church separated from us in the time of the war because they would keep no slaves, swear no oaths, nor bear arms in defence of their country. A letter was written by the Association in answer to the one received, and a committee appointed to wait on the church, who reported to the next Association that they attended and found that there was no probability of a reconciliation."
Source: Pages 248-249 of A History of the Rise and Progress of the Baptists in Virginia by Robert B. Semple, 1894.
Question: If the Menonist Baptist Church at the White House was dispersed before 1809, why would this letter have been presented to the Baptist Association in May 1809? If Martin Kauffman II died in 1805 and Martin Kauffman III was in Ohio, who sent the letter to the association? Was the association several years behind in responding to the letter?
Some of the Virginia Mennonite names that appeared on the early membership list of the Ohio church include Kauffman, Hite, Ruffner, Cagy, and Histand. In the original group, was Maria Elizabeth Brumbach Histand, the widow of Jacob, Henrich's oldest son (Daniel Hiestand/Haston's brother) who drowned in in the South Fork Shenandoah River in 1795. Hiestand family historian David Trimble indicated (page 7) that on October 13, 1804 Jacob Hiestand's widow and children settled Jacob's estate and moved to Fairfield County, Ohio.
Continuation of the Mill Creek Baptist Church
Speculations vary greatly regarding when the log church building, commonly known as the Mauck Meeting House, was constructed and which group built it--Mennonites or Baptists. Construction date theories range from as early as 1740 to as late as about 1800.
Harry Anthony Brunk claimed that "the old Mill Creek Church (log building in Hamburg) was built under the auspices of the Mennonites in the first half of the 18th century." Although he does not cite the evidence, Brunk stated (page 12) that "reliable evidence points to construction before 1750." He also says that the late addition of a balcony for slaves, which was not part of the original building, is evidence that the Mennonites, who did not own slaves, built the house and it was later taken over by Baptists, some of whom were slaveholders. Brunk, a Mennonite historian. went on to conclude that the "'Mauck Meeting House,' the old Mill Creek church,' was no doubt the first meetinghouse that the Mennonites of Virginia helped to build and use."
In his book A Short History of Page County, VA, Harry Strickler stated that the building was probably built between 1769 and 1800 and that it may have been built much earlier. In a footnote on the same page (page 273) Strickler notes that Mann Almond of nearby Luray said that the building was constructed about the time of the Revolution. That would have been at or near the time of the Kauffman-Koontz split, which would make sense. Perhaps, the split triggered the need for a separate building for the congregation that followed John Koontz?
According to Harry Strickler, Miss Mary Brubaker, whose grandmother was a daughter of Daniel Mauck, wrote: "My father always told us that the old meeting house in Hamburg was built the year his father was born--1798." His mother was the daughter of Daniel Mauck. Source: Page 283, A Short History of Page County, VA.
Could it be that the meeting house was built during the time of the American Revolution but significantly remodeled, with the balconies, etc., in 1798?
The oldest existing minute book begins with August 18, 1798, but several of the earliest pages are missing from the book. An old fly leaf, seemingly from the minute book, contains this inscription: "Mill Creek Church, March 1798." The earliest minutes begin "Church of Christ Mill Creek" but on July 20, 1799 the minutes begin with "The Baptist Church of Christ Mill Creek." This was several years before the Alexander Campbell - Barton Stone restoration "Church of Christ" / "Disciples of Christ" movement began. "Baptist Church of Christ" was a common descriptor for Baptist churches prior to the time that Alexander Campbell began to use the name for churches who affiliated with his baptismal regeneration doctrine.
Deed for the Lot
In the early years of this country, it was common for church buildings to be situated on property belonging to one of the prominent church members or its leader. Then, at a later date, the lot on which the building sat would generally be deeded to the congregation.
In 1776 Elder John purchased 86 acres from David Kauffman, son of Martin Kauffman I and brother of Martin Kauffman II. This acreage adjoined land owned by Daniel Mauck. John's wife, Elizabeth, and Daniel Mauck's second wife were sisters. Then, in 1786 John Koontz and Elizabeth conveyed the 86 acres to Daniel Mauck. It is possible that the church lot was situated on this land.
Not only are we unsure of the time the log building for the Mill Creek Church was erected, but we also do not know who owned the land on which the building was constructed. Tradition says that it was built on land owned by Daniel Mauck, thus the name "Mauck's Meeting House." But, did Daniel Mauck own the land when the building was initially erected? Did he purchase the land from John Koontz after the log church was built? One thing seems clear--it was not built on a lot deeded to the church at the time of its construction. That deed came later.
In 1807, Joseph Mauck (son of Daniel Mauck who had died in 1803), owner of the land on which the building stood, conveyed the property to the "sundry persons friends of religion and good order" who had been using it. he language of the deed is indicative of the strong religious feeling prevalent at he time:
This indenture Witnesseth that whereas Sundry persons, inhabitants of the County of Shenandoah in the state of Va., friends of religion and good order, did by Subscription build a house of worship on the land of Joseph Mauck of said County which house is commonly known and called by the name of Mauck's Meeting House in which house it was intended by the projectors or Subscribers afore said all orders of Christians and all worshipers of God preaching a moral doctrine and behaving decently should be allowed to preach and it was also their intention to buy a small lot of land on which said house stands a title to which should be made to no one or more o them but that the house and lot aforesaid should forever devoted to the public for advancement of religious and other pious purposes...
Download the application for the National Register of Historical Places, which includes this excerpt from the 1807 deed.
Note: Even though the deed indicates that the church was for use by any denomination, it seems that it was used exclusively by Baptist throughout the 1800s.
In 1811 Joseph Mauck, conveyed two tracts of land to John Brubaker, land that had been devised to him by his father Daniel Mauck. This land included the above Koontz tract. The deed excepts the Mill Creek church lot:
Excepting and reserving one acre and twelve square perches of the said tract of land as the same was laid of, and a meeting house built thereon by the neighbors for religious purposes, commonly called and known by the name of Mauck's Meeting House.
It is not clear if John Koontz or Daniel Mauck owned the lot when the church building was constructed.
Still working on this section.
As per meetings, appears that they often met in private homes even after the log building was definitely available.
Meetings in the early 1800s, as per the minutes, alternated between Big Spring and Mill Creek, but from about 1802 they all were held at Big Spring. On January 16, 1809 it appears that permission was granted to members in the Mill Creek area to have the full privilege to act as a church as "we have been at the Big Spring." John Koontz was moderator for that meeting.
multiple campuses - one church, multiple locations - see page 156 of Strickler's Massanutten
Big Spring - as early as 1798, probably older
In November 1824, the members at Big Spring requested letters of dismissal so that they might organize a separate church. This church was established on 7 May 1825. (LVA catalog: Mill Creek Church (Page County, Va.)
Minute books, 1798-1847 2 vols.
How many locations? Dates? etc.
Old School
The church eventually became anti-missionary and joined the Old School Baptists. - LVA catalog
When? In the 1820s & 1830s
Old School = "primitive (meaning original) Baptists", no instrumental music, no Sunday schools, anti-missionary, election and particular redemption,
disagreement arose in the 1820's and 1830's over the use of Missionary Societies, Sunday Schools and Theological Seminaries
http://www.oldschoolbaptist.org/History.htm
When did Mill Creek Baptist choose to go old school?
School there - when? More info on the school.
Civil War - Stonewall Jackson at the Mill Creek Baptist Church? (May 21, 1862)

Brick building
Near the turn of the century - date? More information.
Other key facts from the pre-brick building era?
Minutes available? Could I post them?
John Koontz was pastor of the Mill Creek Baptist Church from the mid-1770s to 1824, about 50 years, and died in 1831. He lived to be over 90 years old.