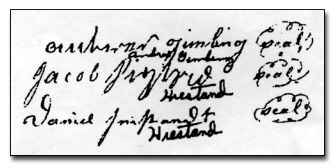 This signature of Daniel Hiestend, son of Swiss-German Henry Hiestend of Page County, VA, appeared on a March 25, 1777 Dunmore County, VA document. The surname was originally written in a German script and then someone (perhaps a family researcher at a later date) translated it into English. When we compare Andrew Gimling's (brother in law to Daniel Hiestend) signature, on this document, with another signature of his (Andrew's) name that appeared on Henry Hiestend's will (three days earlier), it seems clear that his (Andrew's) signature was a bonafide self-signature and not one signed by the court clerk. Thus, we can probably assume that Daniel Hiestend's was also a bonafide personal signature.
Source: Appears to be an estate settlement, in Dunmore (now Page) County, VA, for some (unknown to us) person. The document bears a date of March 25, 1777, which happens to be three days after Henry Hiestend's will was created, in which Daniel Hiestend was somewhat reprimanded by his father. We are not sure where the original document for this signature can be found. If you know more about this document (or other Daniel Hiestend documents), please contact us.
---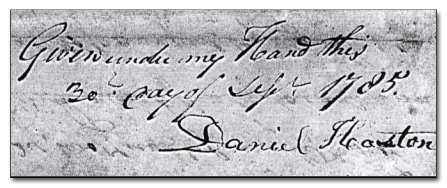 This signature appears on the September 1785 Revolutionary War land grant that was assigned to Daniel Haston at Fairfield, NC. Some people have questioned whether or not this is a bonafide personal signature of Daniel Haston. It could be argued that it was written by the clerk who created the document. Compare this signature, for yourself, with the handwriting of the clerk. The North Carolina official, William Faircloth, who assigned this land grant (although he was not the clerk who wrote or signed the document) was later found to be guilty of fraud for forging payroll and land grant documents.

Source: NC Secretary of State Land Grant Records, Warrants, Surveys, and Related Documents, Tennessee County, TN, S.108.388; frames #721-725: File #201, Thomas Archer, assignee of Daniel Haston (Military Warrant No. 2344), 640 acres, Grant No. 1490, 4 Jan 1791. Available from the NC State Archives, Raleigh, NC.
---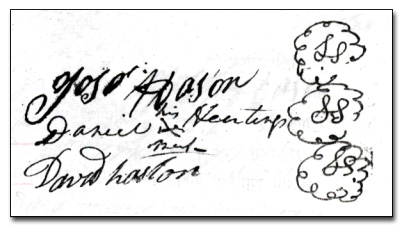 Daniel signed as a security in support of his son Joseph Hasting (Haston) in the April, 1800 Knox County, TN "timothy lot" court case, Samuel Cowan vs Joseph Hasting. Daniel's signature appears between those of Joseph and David. However, notice that Daniel only provided "his mark." The handwriting in the document seems to indicate that Daniel's "signature" was written by the clerk who wrote the document. Joseph's signature is clearly distinct from the handwriting style that appears throughout the document, as is David's. David's signature here matches the handwriting of his (David's) signature on his May 5, 1800 Knox County, TN marriage papers. Does this mean that our Daniel Haston could not write his name? If so, what does this tell us about the other "signatures" that we have for Daniel? If he could write, but he only signed with "his mark" here, how can that be explained, especially since Joseph's and David's signatures seem valid? The bond money that Daniel, Joseph, and David put up was $2000 in "1800 money!" Surely, with this amount of money at stake, Daniel would not have allowed a clerk to sign his name without him (Daniel) being present and participating in the act. It could be argued that Daniel was literate, but that his primary language was German and that the Knox County court would not accept German script.

Source: Samuel Cowan vs Joseph Haston; Knox Cty, TN Court Case File: Docket # 138511235, (1800). Vol. 3 Court of Pleas & Quarter Sessions, 1800-1802 (p. 76 / p. 100), # 1235, 1385. Available from Knox County, TN Archives. The 1800 David Haston marriage bonds document is also available from the Knox County, TN Archives.
---


In 1806, 155 men from what is now White County, TN signed a petition to form White County from Jackson County. This "Daniel" signature appears on one of the three pages of that document. This page begins with the phrase "by his neighbours" and is dated July 22, 1806. Despite the "Dannel Hasstont" spelling, it must be the name of our Daniel Haston because it appears just six signatures down from "Joseph Haston." Also, many of the men whose names appear on this page are men known to have lived near Daniel Haston in that era. But is it a bonafide personal signature of Daniel Haston?

The Isam Bradley (who was marriage bondsman for David Haston in 1800 Knox County, TN) signature, that appears eight places above Daniel's name, seems to match his (Isam's) signature on David Haston's marriage papers. However, the Joseph Haston signature on this document bears no resemblance to Joseph's signature on the 1800 Knox County "timothy lot" court document. Long-time Haston researcher, Dwight Haston, who is a descendent of Joseph, believes that Joseph still had Roane County (just west of Knox County), TN ties at this time and that he may have gone back to Roane County temporarily.

We can probably assume that many, if not most, of the signatures on this list were the actual personal signatures of the men represented. However, interspersed throughout the list are several names that appear to have been written by the same person who wrote other names. It is possible that the men who were literate wrote their own names and that the man or men who circulated the list wrote the names for the men who could not write. Perhaps someone wrote Joseph's name because he, although a resident of the area, was unavailable at the time. Did Daniel sign his own name or did another man sign it for him, mistaking Haston for Hasstont? It seems clear that whoever wrote "Joseph Haston" was not the same person who, just six signatures down, wrote "Dannel Hasstont." It appears to be a unique signature, different in handwriting style from the others around it, but examine it for yourself. For example, compare the capital "D's" and capital "H's" of Daniel's signature with other names on the page.

Does the harsh sounding "tont" ending for "Hass-tont" lend credibility to the theory that our Daniel was the "Daniel Hiestend / Hiestand / Hiestandt / Hiestent" from the Swiss-German Heinrich Hiestend family of Page County, VA? What does the "Dannel" spelling of Daniel indicate? Daniel Hiestend clearly spelled his name "Daniel" on the Dunmore County, VA document.

Source: Legislative Petition # 5-1-1806, Petition for the Formation of White County from Jackson County, TN. Available from the Tennessee State Library and Archives.
---
Do you know of other Daniel Hiestend / Daniel Haston signatures? If so, please contact us.